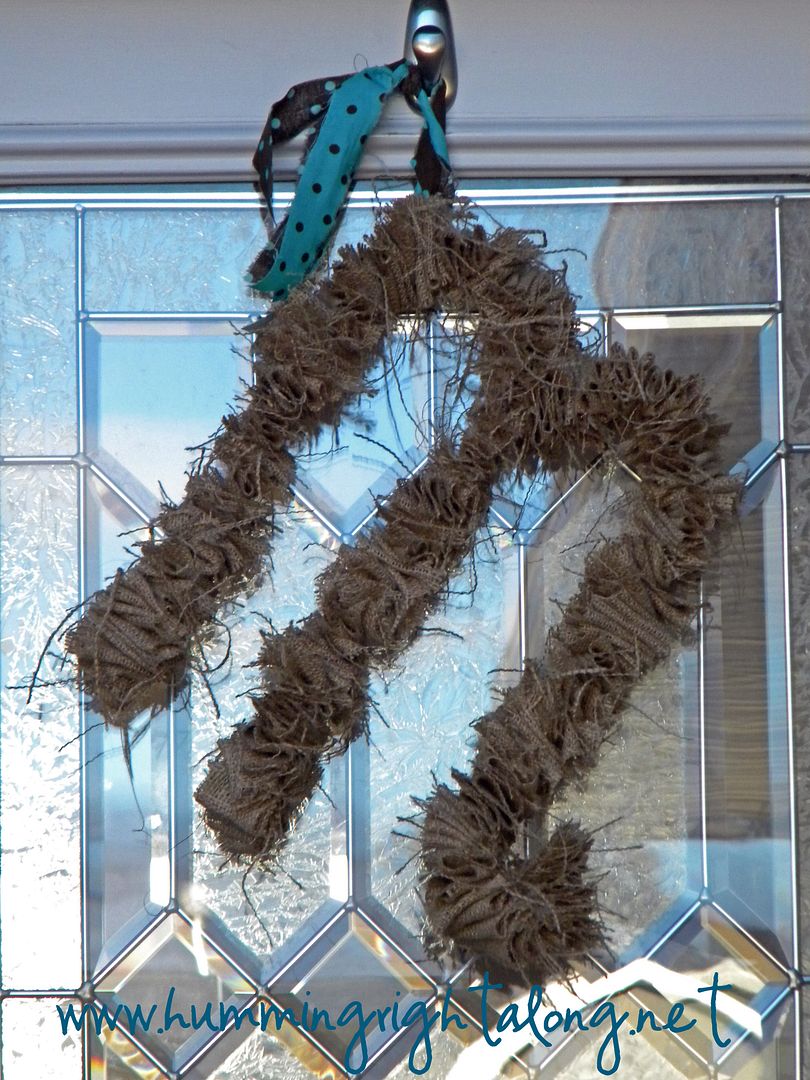 Our house is constantly getting mixed up with the neighbor's next door. Everyone from children to grandparents come knocking looking for someone who belongs over there. I have been looking for a cute way to hint to everyone that this is our home, not theirs, so try next door. Luckily our last names begin with different letters, so I thought I would give a try at making a burlap "M"~ surely that won't be mistaken for the neighbor's "C." I think it turned out pretty cute. I learned a few things along the way in case you want to make one for yourself. First, I discovered that you are lucky if your name begins with a C, S, U, W, O, Z, V, or any other letter there might be where you can bend your letter easily from one piece of wire without back-tracking or twisting a second or even third piece of wire on. Where there is a will, there is a way, and the other letters can be crafted, but it takes a little thought to figure out how to put it all together. To make my "M," I had to back-track along one of the legs and also up the middle. Then I used needle-nose pliers to pinch the wires together so they fit smoothly together and also to crimp any loose ends I had so they didn't poke out and snag the burlap. You may need to assemble your letters in pieces. For example, an H would be made with three pieces, two sides of equal length, and one shorter piece for the middle. You may have to play with it a little to figure out what works, but it will come. I should note that I used wire that I bought for a little over three dollars in the fencing section of Home Depot. It is black and comes all coiled up. You should find it close to the re-bar.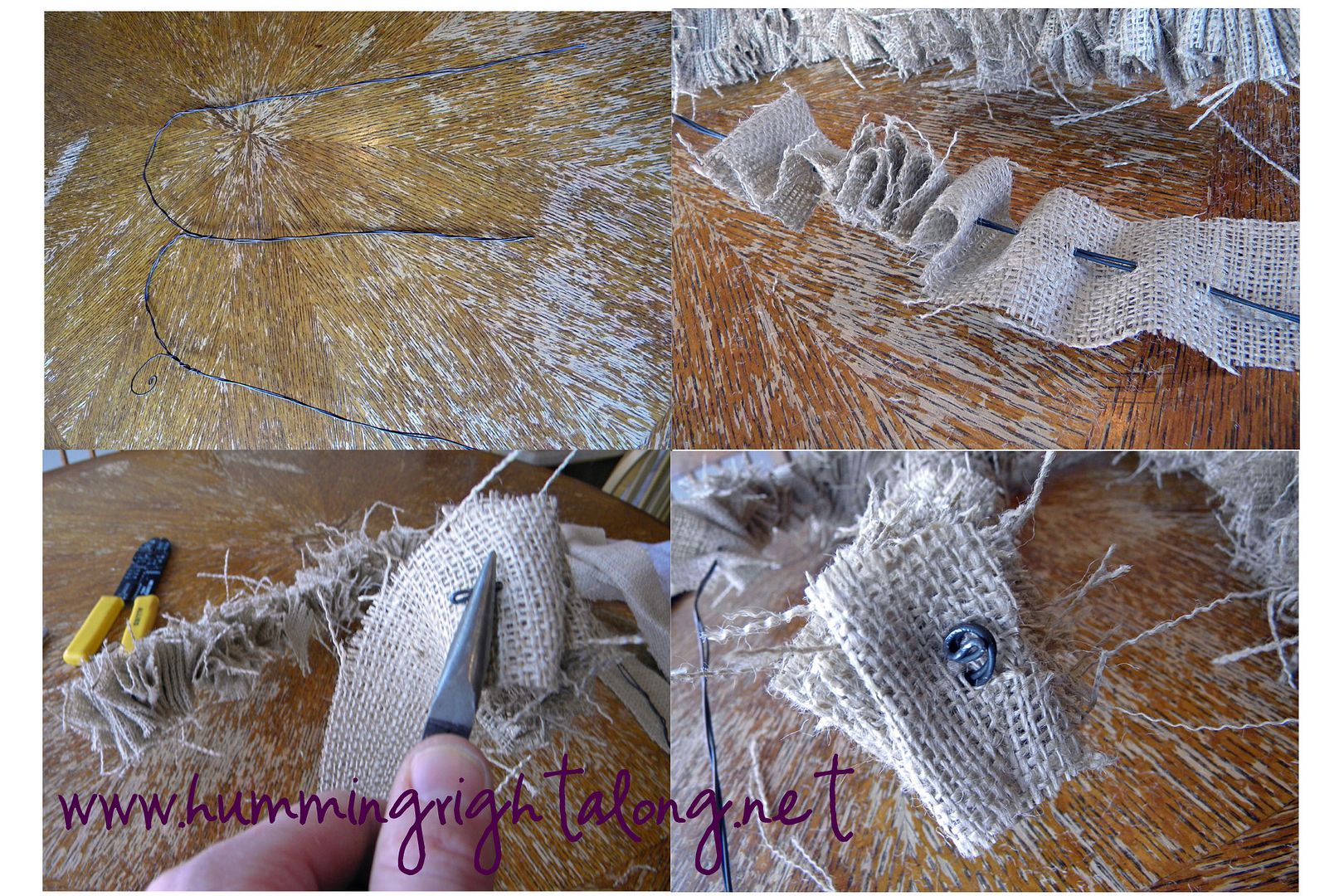 Once you have figured out how to make your letter, and the wires have been smoothed and the ends crimped, it is time to work with the burlap. Cut 1 to 1 1/2-inch strips the length of your burlap. Weave the burlap onto the wires by poking it down through the front, and up through the back. Push it along the wire until it stops and scrunches. Repeat until the wired is covered. I worked in three sections, up both sides and then the middle. Depending on your letter, you may have more or less. When you reach the end of the wire, use needle-nose pliers to grab the end and twist it so that a circle forms (make sure to bend the sharp end in) to stop the burlap from sliding off. Use a wire loop and some ribbon, or fabric scraps to hang your project with. You should end up with something like this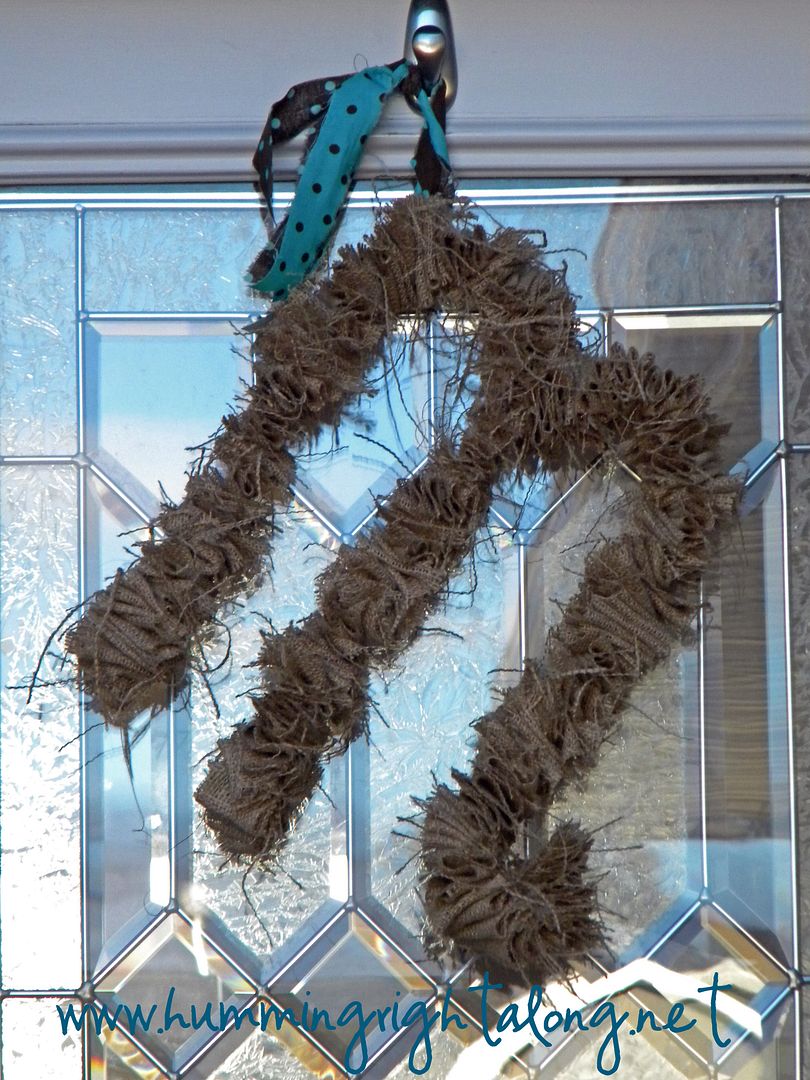 Have you ever attempted any projects like this? I would love to hear about any tips or tricks you learned along the way!
This project is participating in
I'm sharing this idea with